Protest against LNG, Neo-colonial Exploitation and Fossil Capitalism in Hamburg

Summary

Ende Gelände climate action in Hamburg.

More than 2,000 people took part in a major week of action in the Hanseatic City of Hamburg. In terms of content, many of those most affected by the consequences of climate change were able to speak in speeches, at press conferences and on panels this year.

Starting from the System Change Camp, buses left on Friday for a smaller blockade and sabotage action in Wilhemshaven. The target was the construction site of an LNG terminal. The activists demand an immediate gas phase-out. They also want to point out that the extraction and transport of natural gas is associated with massive burdens on people and the environment. For example, fracking, which is banned in Germany, is used for extraction in Argentina.

On Saturday, activists blocked rails and access roads to the port of Hamburg at three locations. The port was targeted as a symbol of capitalism and a transfer point for fossil fuels. According to the port authority, train traffic was suspended from 12AM to 10 PM. In at least three places, the blockade of the so-called "golden finger" also involved graveling - in other words, digging under the railway tracks. The police acted extremely brutally against the people who were blocking the railroad. During one demonstration, they peppered around wildly, batoned the crowd, and then claimed to have been attacked by the activists themselves with pepper spray. Pictures rather suggest "friendly fire." Elsewhere, the crowd was cleared with the use of pain grips. Care by paramedics was prevented and at least one person collapsed.

New this year was above all that sabotage as a form of action is carried by the crowd. Whether this will prevail and what it means is still unclear. Meanwhile "BILD", Organ of infamy, is already alluding to a "violent autumn" and smells parallels to the RAF.

You can read more about what the activists want in our coverage for "taz - die tageszeitung":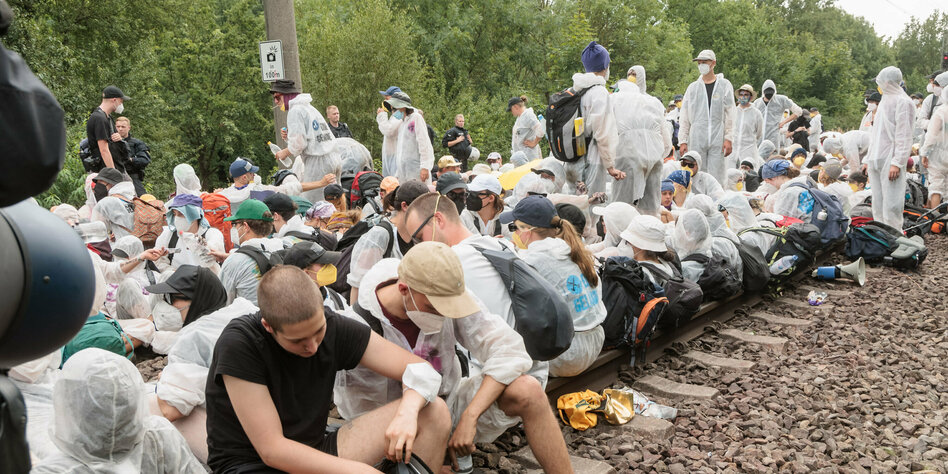 "Ende Gelände" protestiert in Hamburg: Gegen den fossilen Kapitalismus
Die Klimaak­ti­vis­t*in­nen blockieren diesmal Orte der Infrastruktur und Logistik: Das LNG-Terminal und den Hamburger Hafen.
Taz.de